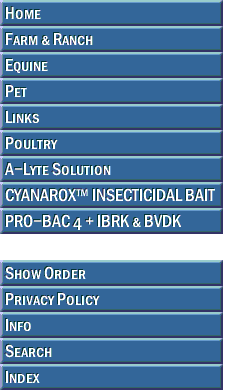 MERIAL

Contains 1.87% ivermectin. For treatment of large strongyles, small strongyles, pinworms, ascarids, hairworms, large-mouth stomach worms, bots, lungworms, intestinal threadworms and summer sores. May be used in horses of all ages, including mares at any stage of pregnancy. Stallions may be treated without adversely affecting their fertility.

DOSAGE/ADMINISTRATION:
Syringe contains sufficient paste to treat one 1250 lb horse at the recommended dose rate of 91 mcg ivermectin per lb body weight. Each weight marking on the syringe plunger delivers enough paste to treat 250 lb body weight.



0.21 oz (6.08 gm)
PRODUCT DISCONTINUED BY MANUFACTURER
12 @
PRODUCT DISCONTINUED BY MANUFACTURER







Please contact us for discount pricing on large orders.


Call toll free 1-800-892-6978 or email us at info@animalhealthusa.com