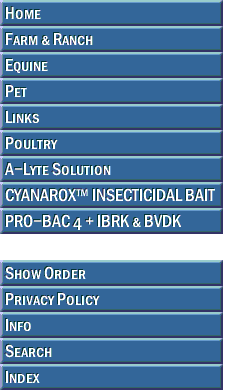 BOEHRINGER INGELHEIM

For vaccination of healthy calves, 2 weeks of age or older, as an aid in the prevention of clinical disease due to Salmonella Dublin.

DOSAGE/ADMINISTRATION:
Aseptically rehydrate with the accompanying diluent. Calves, inject one 2 mL dose subcutaneously using aseptic technique. A second 2 mL dose should be administered 12 to 16 days following the first vaccination. Store in the dark at 2° to 7°C (35° to 45°F). AVOID FREEZING. Shake well after rehydration. Use entire contents when first opened. Burn container and all unused contents.










Please contact us for discount pricing on large orders.


Call toll free 1-800-892-6978 or email us at info@animalhealthusa.com