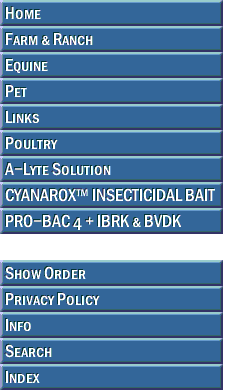 IMMVAC

For vaccination of healthy cattle to aid in the prevention of clinical mastitis caused by E. coli and the effects of endotoxemia in cattle due to Escherichia coli, Salmonella typhimurium, Pasteurella multocida and Pasteurella haemolytica.

DOSAGE/ADMINISTRATION:
Inject 2 mL into the musculature of healthy cattle. Repeat in 2 or 3 weeks. Administer a 2 mL booster dose annually. Recommended for vaccination of cows during the dry period and heifers during the third trimester of pregnancy.










Please contact us for discount pricing on large orders.


Call toll free 1-800-892-6978 or email us at info@animalhealthusa.com