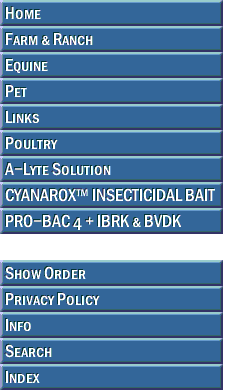 MERCK



DISCONTINUED



For vaccination of healthy horses 6 months of age or older, as an aid in the prevention of disease caused by Eastern and Western encephalomyelitis viruses and tetanus.

DOSAGE AND ADMINISTRATION:
For primary vaccination aseptically administer 1 mL intramuscularly, repeat with a single dose in 3 - 4 weeks. Annual revaccination is recommended. A booster dose can be administered at more frequent intervals based upon individual horse or farm disease risk assessment or any time epidemic conditions exist or are reported. Consult your veterinarian.










Please contact us for discount pricing on large orders.


Call toll free 1-800-892-6978 or email us at info@animalhealthusa.com