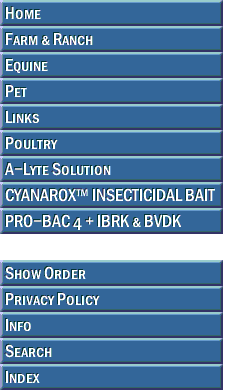 ELANCO

"The Puppy Shot Booster" - for subcutaneous vaccination of healthy dogs 6 weeks of age or older as an aid in the prevention of disease caused by canine distemper, infectious canine hepatitis, canine adenovirus type 2, canine coronavirus, canine parainfluenza, canine parvovirus, Leptospira canicola, Leptospira icterohaemorrhagiae, Leptospira grippotyphosa and Leptospira pomona.

DOSAGE/ADMINISTRATION:
Administer one 1 mL dose subcutaneously. A recommended vaccination schedule should start at or about 6 weeks of age. Puppies should be revaccinated every 2 to 3 weeks until 12 weeks of age. All dogs over 12 weeks of age should initially receive one dose of Duramune Max 5-CvK/4L and a second dose 2 to 3 weeks later. Annual revaccination with one dose is recommended.



25 x 1 dose
DISCONTINUED







Please contact us for discount pricing on large orders.


Call toll free 1-800-892-6978 or email us at info@animalhealthusa.com