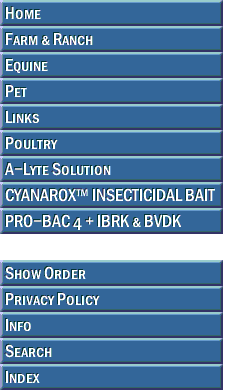 DURVET

Fruit flavored DuraLyte™ T are supplements designed for the support of normal recovery time after strenuous activity and help maintain a normal electrolyte balance year round.

Salt (sodium chloride), potassium chloride, magnesium sulfate, calcium carbonate, calcium lactate, silicon dioxide, natural and artificial flavoring

DOSAGE/ADMINISTRATION: For the high performance horse, feed 3 to 4 ounces per day. For moderate exercise, feed 2 to 3 ounces per day. For maintenance or light working, feed 1 to 2 ounces per day. May be added to drinking water or mixed with feed. If added to water, dilute at the rate of one ounce per five gallons of water. Allow no other source of drinking water. The enclosed scoop measures approximately one ounce.



5 lb pail - CHERRY FLAVOR
ON BACKORDER
5 lb pail - TROPICAL FLAVOR
ON BACKORDER







Please contact us for discount pricing on large orders.


Call toll free 1-800-892-6978 or email us at info@animalhealthusa.com