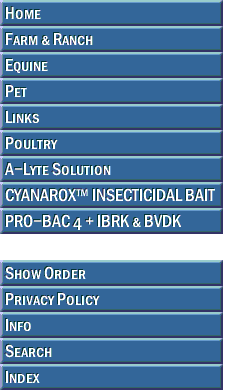 ZOETIS

ACTIVE INGREDIENT: Decoquinate 0.8%

A medicated powder to be added to whole milk for the prevention of coccidiosis in ruminating and non-ruminating calves, including veal calves caused by Eimeria bovis and E. zuernii.

DOSAGE/ADMINISTRATION:
1 teaspoon per 120 lb. body weight for 28 days. One level measuring teaspoon contains 28 mg of decoquinate.



5 lb.
DISCONTINUED
8 x 5lb
DISCONTINUED







Please contact us for discount pricing on large orders.


Call toll free 1-800-892-6978 or email us at info@animalhealthusa.com