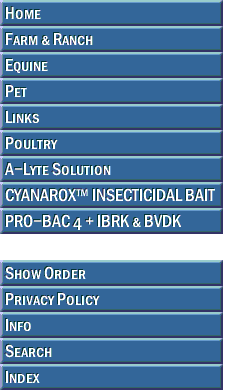 KINETIC TECH.

Species equine

Active Ingredient sodium hyaluronate

Description Joint health supplement for horses. Each dose contains: • Sodium Hyaluronate, 100 mg

Kinetic™ Conquer® Liquid is a liquid joint supplement with the most Sodium Hyaluronate (HA) per dose on the market. Conquer Liquid is developed specifically to help maintain the health of your animal's joints. HA is safe, non-toxic and a naturally occurring glycosaminoglycan with its highest concentration found in all vertebrates' connective tissue and joint fluid. Conquer Liquid is the only clinically proven HA product on the market based on a controlled blind study, as published in the Equine Veterinary Journal (2006). Apple flavor. 256 servings when fed at maintentance level (1/2 ounce). With 100mg hyaluronic acid per dose to help maintain joint health. Give 1/2 ounce per 1200 lbs. daily. May double dosage for initial 7 day loading period or for 7 days prior to event.










Please contact us for discount pricing on large orders.


Call toll free 1-800-892-6978 or email us at info@animalhealthusa.com