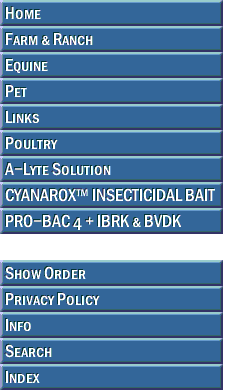 Alta Genetics USA

Colostrx CR Colostrum Replacer has been formulated to ensure calves receive valuable immunity and antibodies needed to survive. Colostrx CR has a USDA dual-label claim: To aid in the treatment of Failure of Passive Transfer of immunity in newborn calves; and to aid in the prevention of death associated with E.coli K99. Colostrx CR is made with true first day bovine colostrum and can be fed as a replacement for maternal colostrum. Delivers 100g IgG, along with other important nutrients, including viable lactic acid bacteria, vitamins, and minerals.

DOSAGE & ADMINISTRATION:
Mix 500 gm packet, or measure from bulk pail, into 2 quarts warm water. Feed entire dose within 24 hours after birth. Dosage measuring cup included in bulk pail.










Please contact us for discount pricing on large orders.


Call toll free 1-800-892-6978 or email us at info@animalhealthusa.com