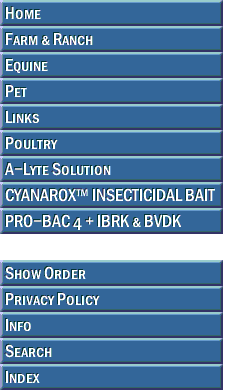 ELANCO



DISCONTINUED



For use in cattle and sheep as an aid in the prevention and treatment of enterotoxemia caused by Clostridium perfringens Types C and D. Although Cl. perfringens Type B is not a significant problem in North America the combination of Cl. perfringens Type C (beta) and Type D (epsilon) fractions may protect against enterotoxemia caused by Cl. perfringens Type B.

DOSAGE/ADMINISTRATION:
Administer the following doses subcutaneously:
Feeder lambs: Prophylactic Treatment-10mL, Therapeutic Treatment-20mL.
Suckling calves: Prophylactic Treatment-15mL, Therapeutic Treatment-30mL.
Cattle: Prophylactic Treatment-30mL, Therapeutic Treatment-60mL.

Store out of direct sunlight at 2°-7° C (35°-45° F). Do not freeze. Use entire contents when first opened.










Please contact us for discount pricing on large orders.


Call toll free 1-800-892-6978 or email us at info@animalhealthusa.com