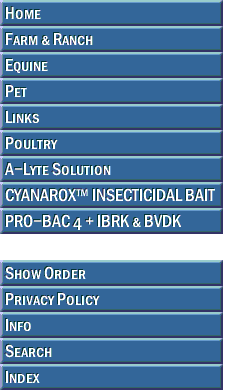 TEXAS VET LAB

Corynebacterium Pseudotuberculosis Bacterin is for use in healthy goats, 3 months of age or older, as an aid in the prevention of pyogranulomas/caseous lymphadenitis (CL), a disease characterized by localized collections of pus.

DOSAGE AND ADMINISTRATION:
Give 1 ml SQ in the side of the neck. Repeat in 14 days with 1 ml SQ in the opposite side of the neck. Manufacturer states the vaccine has not been tested or approved in lactating or pregnant does. 60-day slaughter withdrawal. May cause injection site swelling.



20 dose
ON BACKORDER
50 dose
ON BACKORDER
100 dose
ON BACKORDER







Please contact us for discount pricing on large orders.


Call toll free 1-800-892-6978 or email us at info@animalhealthusa.com