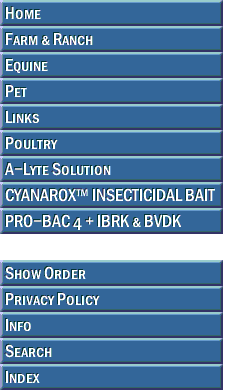 DURVET

Description Provides fast and sustained release of calcium into the bloodstream for dairy cattle during calving.

Contains max 67 gm calcium, 6.8 gm magnesium, 0.6 gm cobalt, 3 mg selenium and vitamins in a "true gel" base so product will not run out of animal's mouth.

Cal Magnesium Se Gel has a neutral pH ideal for animals; no withdrawal time.

Directions: Give 1 tube prior to or after calving; repeat 12-24 hours after calving. Do not administer more than 1 tube in a 24 hour period.



300 cc
ON BACKORDER
12 x 300 cc Tube @ $6.98
ON BACKORDER







Please contact us for discount pricing on large orders.


Call toll free 1-800-892-6978 or email us at info@animalhealthusa.com