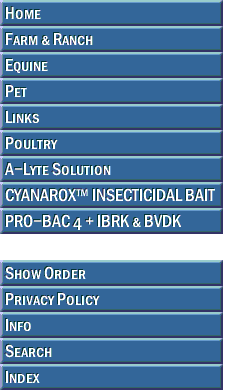 BOEHRINGER INGELHEIM

Recommended for the vaccination of healthy, susceptible sheep and cattle, including bred and/or lactating beef and dairy cattle, as an aid in the reduction of diseases caused by Clostridium chauvoei, Cl. septicum, Cl. novyi, Cl. sordellii, and Cl. perfringens Types C and D. Although Cl. perfringens Type B is not a significant problem in the U.S.A., immunity may be provided against the beta and epsilon toxins elaborated by Cl. perfringens Type B. This immunity is derived from the combination of Type C (beta) and Type D (epsilon) fractions.

DOSAGE/ADMINISTRATION:
Using aseptic technique, inject 2 mL subcutaneously. Repeat in 21 to 28 days and once annually. Store at 35-45F (2-7C). Avoid freezing. Shake well before using. Use entire contents when first opened. Do not vaccinate within 21 days before slaughter. Anaphylactoid reactions may occur.










Please contact us for discount pricing on large orders.


Call toll free 1-800-892-6978 or email us at info@animalhealthusa.com