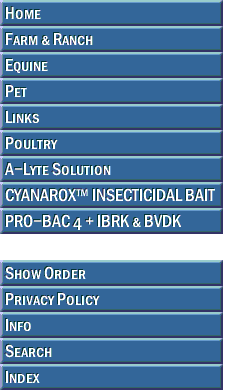 JORGENSEN LABS

A specially formulated mineral supplement for use in dairy cows. It is an aid to help maintain normal calcium levels during the critical immediate pre-partum and post-partum period.

DOSAGE/ADMINISTRATION:
Load cartridge in standard dosing gun and remove protective end cap. Place the nozzle near the back of the oral cavity and empty the tube contents, allowing the cow to swallow.
One tube can be administered just before or after calving. If milk fever develops, then one tube is given 2-3 hours after regular IV milk fever treatment and another tube 12-16 hours later.

300 mL Tube.










Please contact us for discount pricing on large orders.


Call toll free 1-800-892-6978 or email us at info@animalhealthusa.com