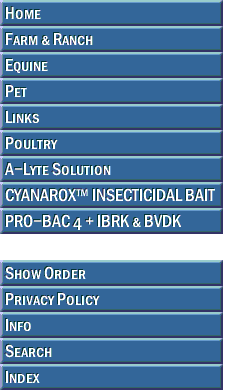 VET ONE

Calcium Gel is a nutritional source of calcium used to help maintain normal calcium levels in dairy cows during the critical pre-calving and immediate post-calving periods. This is an easy-to-use, non-irritation source of calcium in a bland vegetable oil gel. A small amount of oil may appear in the gel; this is normal and does not affect the use of the product.

DOSAGE & ADMINISTRATION:
The recommended initial dose is one tube of gel for freshening dairy cattle given before or after calving. If milk fever develops, administer one tube following regular intravenous milk fever treatment to provide supplemental oral calcium. Administer another tube 8-16 hours later. If condition continues, please consult your veterinarian.










Please contact us for discount pricing on large orders.


Call toll free 1-800-892-6978 or email us at info@animalhealthusa.com