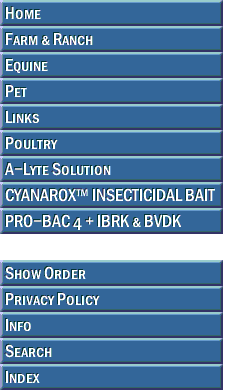 Y-TEX

The most concentrated and economical lice & fly control pour-on on the market today. It controls biting and sucking lice, horn flies and other pests. Its low-volume application rate reduces waste and animal stress. Can be used on lactating and non-lactating dairy cattle and beef cattle with no withdrawal time required. It is non-systemic and can be used year round without the worries of reaction that sometimes occurs with cattle grub treatment. Provides horn fly control for up to 6 weeks after application.

DIRECTIONS:
One 16 oz. bottle treats 64 head of 500 lbs or 32 head of 1000 lbs or larger cattle. One gallon treats 504 head of 500 lbs or 252 head of 1000 lbs or larger cattle. Dilute with diesel fuel or oil for backrubber.
Available in a 16 fl oz. bottle with convenient 1/2 oz. (15 mL) measuring chamber on top and gallon jug with optional applicator gun.










Please contact us for discount pricing on large orders.


Call toll free 1-800-892-6978 or email us at info@animalhealthusa.com