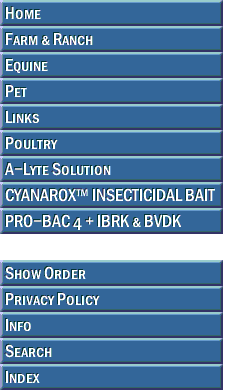 PRODUCT DISCONTINUED BY MANUFACTURER



BOEHRINGER INGELHEIM

Recommended for vaccination of healthy, susceptible cattle four months of age or older against disease caused by bovine rhinotracheitis, virus diarrhea, parainfluenza3 viruses, H somnus, the prevention of infertility, delayed conception or abortion caused by L canicola, L grippotyphosa, L hardjo, L icterohaemorrhagiae, and L pomona.

DOSAGE/ADMINISTRATION:
Using aseptic technique, inject 5 mL intramuscularly. Repeat bacterin dose in 14 to 21 days and once annually. Animals vaccinated before 6 months of age when maternal antibody may interfere should be revaccinated at 6 months or at weaning.










Please contact us for discount pricing on large orders.


Call toll free 1-800-892-6978 or email us at info@animalhealthusa.com