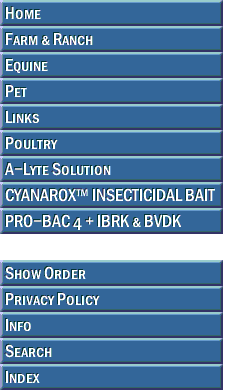 COLORADO SERUM

ACTINOMYCES PYOGENES-ESCHERICHIA COLI-MANNHEIMIA HAEMOLYTICA-PASTEURELLA MULTOCIDA-SALMONELLA TYPHIMURIUM ANTIBODY, BOVINE ISOLATES, Bovine Origin

For use as an aid in the prevention and treatment of enteric and respiratory conditions caused by the micro-organsims named. Contains thimerosal and phenol as preservatives.

DOSAGE/ADMINISTRATION:
Inject subcutaneously or intramuscularly.
PREVENTION: Calves: 20-40mL as soon after birth as possible. Cattle: 50-75mL. Sheep: 10-15mL.
TREATMENT: Calves: 40-100mL. Cattle: 75-150mL. Sheep: 20-40mL. Administer at 12-24 hour intervals until improvement is noted.



1000 mL
ON BACKORDER







Please contact us for discount pricing on large orders.


Call toll free 1-800-892-6978 or email us at info@animalhealthusa.com