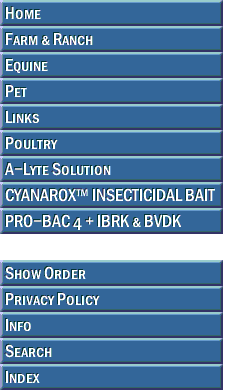 NEOGEN

BotVax B is for the prevention of equine botulism due to Clostridium Botulinum Type B in healthy horses.

DOSAGE AND ADMINISTRATION:
Inject 2.0 mL intramuscularly at monthly intervals for a total of 3 doses. Booster annually with a single 2.0 mL intramuscular dose. Research has demonstrated that pregnant mares immunized during the third trimester of gestation, with the third dose (booster) given 2-4 weeks before parturition, respond with antibody. This antibody is concentrated in colostrum and results in significant passively acquired antibody in normal suckling foals. Inject intramuscularly using aseptic technique. Shake well before use.










Please contact us for discount pricing on large orders.


Call toll free 1-800-892-6978 or email us at info@animalhealthusa.com