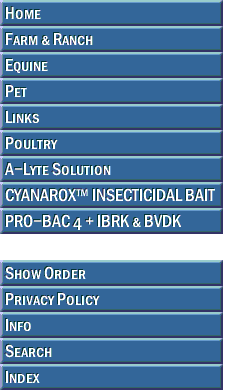 ALTA USA

Provides calves with the immunity they need, is very high in natural colostral fat and is intended for calves needing extra energy. May be used to supplement or completely replace maternal colostrum.

DOSAGE & ADMINISTRATION:
Replacement Colostrum - Mix 1-2 bags (700 gms) with 5-10 cups hot water. Supplemental Colostrum - Mix 1/2-1 bag with 2.5-5 cups hot water.










Please contact us for discount pricing on large orders.


Call toll free 1-800-892-6978 or email us at info@animalhealthusa.com