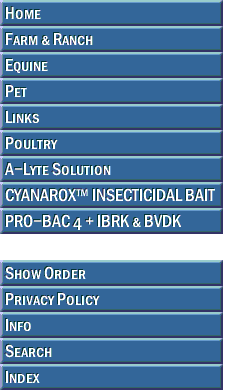 BOEHRINGER INGELHEIM



DISCONTINUED





Recommended for the prophylaxis and treatment of diseases caused by Actinomyces pyogenes, Pasteurella multocida, Escherichia coli and Salmonella typhimurium in cattle.

DOSAGE/ADMINISTRATION:
Prophylactic: 15 mL per 50 lbs. of body weight administered subcutaneously as soon as possible after birth.
Therapeutic: 30 mL per 50 lbs. of body weight, repeat every 12 to 24 hours (depending upon condition of the animal) until improvement is satisfactory.












Please contact us for discount pricing on large orders.


Call toll free 1-800-892-6978 or email us at info@animalhealthusa.com