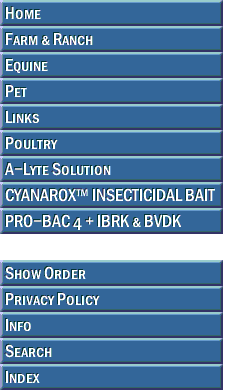 HUVEPHARMA

ACTIVE INGREDIENT: bacitracin methylenedisalicylate

Bacitracin methylene disalicylate soluble powder. Can be used in treatment of swine dysentery (bloody scours) associated with Treponema hyodyseteriae (not for swine over 250 lbs).

DOSAGE/ADMINISTRATION:
For Tanks: One package of BMD Soluble will medicate approximately 50 gallons of water at a dosage of 1000 mg/gallon.












Please contact us for discount pricing on large orders.


Call toll free 1-800-892-6978 or email us at info@animalhealthusa.com