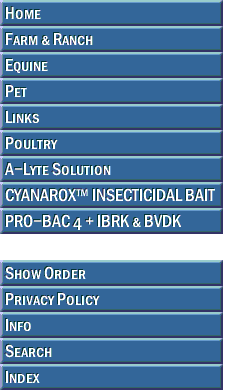 TECHMIX

A multiple energy acidified electrolyte formula for calves prior to weaning. BlueLite C enhances milk digestion through milk clotting and pH regulating coagulation action. In extensive field trials, BlueLite C cut dehydration and shrink by 4-10 percent.

DOSAGE/ADMINISTRATION:
Administer 1 full measure (approximately 4 oz.) of BLUELITE C to each half gallon or 2 quarts of milk, water, or milk replacer fed to the calf on a daily basis.










Please contact us for discount pricing on large orders.


Call toll free 1-800-892-6978 or email us at info@animalhealthusa.com