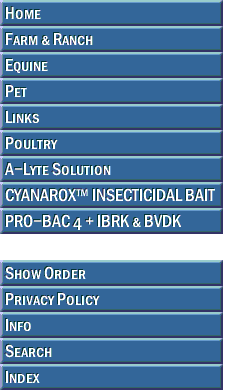 BIO-VET

A nutritional/microbial supplement for cattle containing vitamins, all chelated trace minerals, beneficial microbes, oligosaccharides. Patented capsule-in-a-capsule packaging protects live bacteria. Helps support appetite, starts cattle on feed faster during times of stress, and aids in dairy metabolic/ketotic complex pre and post calving.

DOSAGE/ADMINISTRATION:
Capsules fit standard cattle balling guns. Open capsule contents onto feed, mix with grain, or place capsule directly inside cow's mouth by gently inserting balling gun to base of tongue:
Adult cattle: Administer 1 capsule orally once or twice daily for up to 3 days.
Cattle (500-800 lbs.): Administer 1 capsule daily for up to 3 days.



40 capsules
DISCONTINUED







Please contact us for discount pricing on large orders.


Call toll free 1-800-892-6978 or email us at info@animalhealthusa.com