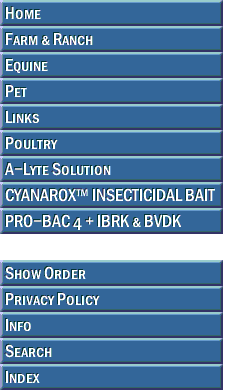 PURDUE

Species avian | canine | cattle | equine | feline | goat | miscellaneous | poultry | sheep | swine

Description Betadine Solution is a topical, water-based antiseptic microbicide used to kill bacteria, fungi and viruses. Contains 5% povidone-iodine (0.5% available iodine). Use full strength for: • Preoperative prepping of skin and mucous membranes. • Preventing bacterial infection. • Emergency antisepsis of minor lacerations, abrasions, and burns. • Postoperative application to surgical incisions.

DIRECTIONS:
Apply full strength, once or twice daily until healed, as a paint, wet soak or spray. May be covered with a gauze bandage.










Please contact us for discount pricing on large orders.


Call toll free 1-800-892-6978 or email us at info@animalhealthusa.com