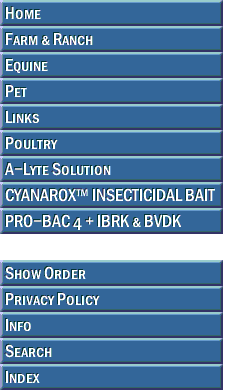 MERCK

Each milliliter of BANAMINE-S (flunixin meglumine injection) contains 50 mg flunixin (equivalent to 83 mg flunixin meglumine), 0.1 mg edetate disodium, 2.5 mg sodium formaldehyde sulfoxylate, 4.0 mg diethanolamine, 207.2 mg propylene glycol; 5.0 mg phenol as preservative, hydrochloric acid, water for injection q.s.

DOSAGE & ADMINISTRATION:
The recommended dose for swine is 2.2 mg/kg (1 mg/lb; 2 mL per 100 lbs) body weight given by a single intramuscular administration. The injection should be given only in the neck musculature with a maximum of 10 mL per site.



RX: Prescription is required. Call 800-892-6978 to order. Product not available for sale in California.












Please contact us for discount pricing on large orders.


Call toll free 1-800-892-6978 or email us at info@animalhealthusa.com