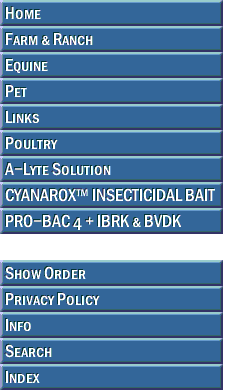 DAIRY ASSOCIATION

For chapped conditions and superficial abrasions. After each milking apply thoroughly and allow coating to remain on surface. This protective ointment helps to keep superficial tissue moist and soft.

DOSAGE/ADMINISTRATION:
Massage thoroughly and allow ointment to remain for full softening effect. For pets, apply liberally to the affected area. For use on cows, thoroughly wash treated teats and udder with separate towels before each milking. To avoid contamination after each milking, bathe the udder with plenty of hot water, strip milk out and dry skin. Apply freely and massage gently with this proven ointment twice daily. Contains no alcohol.










Please contact us for discount pricing on large orders.


Call toll free 1-800-892-6978 or email us at info@animalhealthusa.com