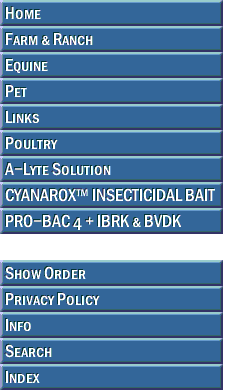 VETONE

Rapid acting preanesthetic and tranquilizer for dogs, cats and horses with a low order of toxicity. Administer IM, Sub-Q or IV. Can be used as an aid in controlling intractable animals during examination, treatment, grooming, x-ray and minor surgical procedures.

DOSAGE & ADMINISTRATION:
Acepromazine Maleate Injection may be given intravenously, intramuscularly or subcutaneously. The general dosage of Acepromazine Maleate Injection for horses is 2-4 mg per 100 lbs body weight; dogs 0.25-0.5 mg per lb body weight; for cats 0.5-1.0 mg per lb body weight. Acepromazine Maleate.



RX: Prescription is required. Call 800-892-6978 to order. Product not available for sale in California.












Please contact us for discount pricing on large orders.


Call toll free 1-800-892-6978 or email us at info@animalhealthusa.com