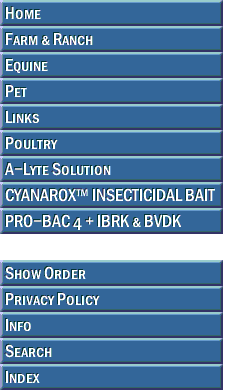 DAWE'S

A water dispersible, stabilized source of Vitamin C, Vitamin E, Beta Carotene, Iron and Zinc for nursery pigs. Helps during times of increased stress or reduced appetite.

DOSAGE/ADMINISTRATION:
Mix 12 oz. per gallon of stock solution. One gallon of ACE-FeZn stock solution will treat 128 gallons of fresh water.



20 lb. pail
ON BACKORDER







Please contact us for discount pricing on large orders.


Call toll free 1-800-892-6978 or email us at info@animalhealthusa.com